To learn more about regulation concerning the license required for sport fishing in Quebec province
you may consul the web site of: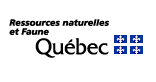 Important points to remember:
Since Avril 2017 because of the new regulation you must use dead baits for ice fishing in the future.
The license is required for fishing in Quebec territory.
The annual license utilized for ice fishing from January 1st to March 31st, is the one used during past year and outgoing until the end of the season. So, if you didn't fish last summer and have not license, and you think to fish only once this winter, you're better to use a three days license instead of the annual license.
The multiple use of fishing rods(10 rods in our region # 8, for other regions refer to the guide) for ice fishing begins on December 20th until March 31st. Out of this period, it is strictly prohibited to fish with more than 1 fishing rod, and the ticket is really expensive.
So be careful.